It's 9:35am and it has been approximately 1 hour and 35 minutes since training camp officially opened. Below are some early morning headlines as per my credible sources
Omar Kelly and Chris Perkins of the Sun Sentinel, and
Andrew Abramson of the Palm Beach Post
.
Player Attendance: As of yesterday afternoon, Miami Dolphins 3rd round pick Dion Jordan signed a 4 year contract with a team option for year 5. He was the last rookie to be unsigned and now all rookies are under contract and have reported to training camp on time. In addition, all the veterans have appeared to reported to camp as well and therefore, All players on the roster are present.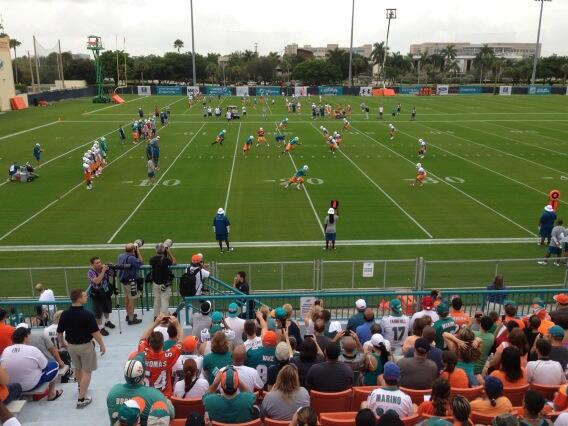 Fan Attendance: All 2,000 available tickets were sold and fans are out in full blast for day 1 of camp.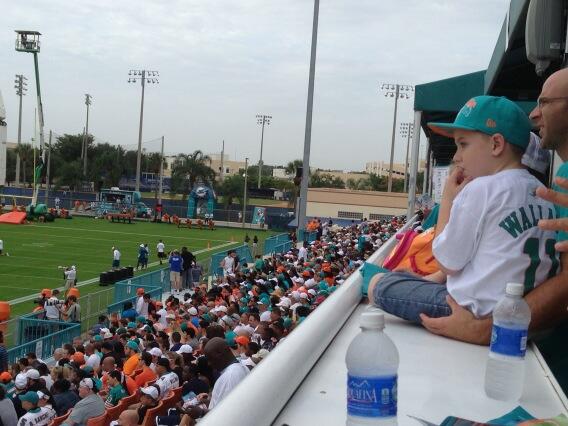 Injury Report: It's still early, but there are no reports of injuries so far in camp. And further good news, all the previously injured players appear to be working: DE Jordan (shoulder), CB Taylor (hernia), G Louis (knee), and LT Thomas (shoulder).
UPDATE:
Mike Florio of ProFootballTalk.com
is reporting the Dolphins have placed Dion Jordan on the Active/Non-Football Injury list.