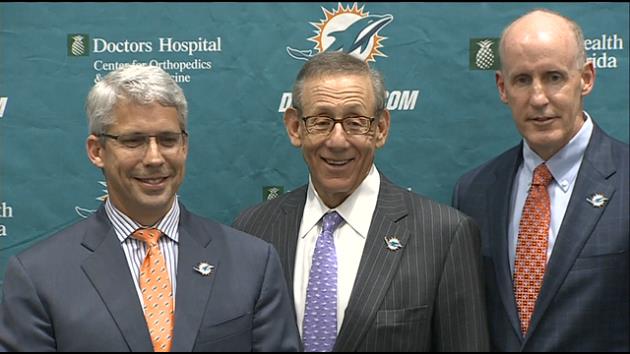 The NFL Draft is just days away and the Miami Dolphins have some big decisions to make by Thursday. This upcoming draft is looked upon by the "experts" as one of the deepest and best draft classes in a long time so there is no shortage of good players. The Dolphins pick at #19 in Round 1 and their needs are obvious. Offensive Line, Offensive Line, and oh yeah Offensive Line! A middle linebacker or a tight end would be nice but let's not fool ourselves and face the reality that the offensive line is still an utter disaster in Miami and the Dolphins must address it early and often.
Yes, the Dolphins added Brandon Albert at left tackle and it was a great addition. Albert along with Pouncey gives the Dolphins 2 legit Pro Bowl level players on the offensive line. Keeping it real for a minute that is all the Dolphins have on the offensive line though. In my opinion they need 3 more starters and to be frank and they have no quality back-up's. Shelly Smith is "expected" to get a starters job in Miami but he is a career back-up and was a part-time player in St.Louis and well the Rams offensive line isn't anything special and they just let Smith walk for no money so I don't get the Dolphins fans who are doing back-flips over him. At worse he is a back-up swing guard at best he is an adequate starting guard. Shelly Smith isn't a difference maker by any means. A little birdie with connections to the Fins told me this week that last years 3rd round pick Dallas Thomas was inured from day 1 last training camp and that's why he never got on the field even when Miami was picking up guys from the scrap heap to play offensive line for them. So, with Thomas now healthy maybe the offensive line situation isn't as dire as it looks on paper as the coaches see Thomas as a guy with the skills to step in at starting guard or right tackle.To me that is wishful thinking but hey we shall see. Even if this tidbit of info is true it doesn't change the fact that Dallas Thomas is an unkown and not someone who can be counted on. It would be a huge roll of the dice to expect Thomas to step in and solve the problem at guard or tackle.
As we know the Fins have 3 options in Round 1; stay at #19, trade back, or trade up. Everyone and their sister is saying trade back and get more picks but trading back is easier said than done. And Miami isn't the only team who wants to trade back so you must have a dance partner and finding one will be difficult.
To me though if everyone is trying to trade back I would go against the grain and be a dance partner for another team trying to move back and therefore trade up in Round 1.
For Miami to go from pick #19 up to pick #14 or #13 all it would cost is a 3rd round pick. If I can get that high for such a little cost and grab a Zach Martin or Taylor Lewan ... do it in a heart-beat. Those are 2 plug-n-play offensive linemen who can start from Day 1 and would solve most of Miami's problems on the offensive line.
I have seen all the mock drafts by the so called "experts" and "hard-core fans" that have Miami taking a WR or a CB in Round 1 and it's absolutely foolish. It's down right laughable that some people think that will happen and others read it and buy into it. First off the mock drafts by the so called "experts" take with a grain of salt because even though they act and talk like they know everything they don't know every little detail of every NFL teams needs. And they do mocks based on players more than teams in that if a guy is projected to go between 15-22 in the draft they place them there in their mock whether the team needs him or not. And people a word of advice never buy into a fans mock draft. Some of these low-quality "fan sites" who have "writers" that are teenagers who work at a 7-11 all day or at your local Goodyear and live in their parents basement. They all try to pretend to be Peter King or Chris Mortensen and type up these mock drafts like they know what they are talking about; just ignore them. The bottom line is this; the Dolphins need offensive line help in the worst way possible. They gave up 58 sacks last year and got Ryan Tannehill killed so don't over think this too much. Miami will go for an offensive linemen early and often in this draft.
So back to this years draft and what Miami should do. If I were in charge trading up would be goal #1. If Miami can't find a partner to trade up or trade back with and has to stay at #19 then it gets interesting. The "BIG 4" offensive linemen
should
be gone (Robinson, Lewan, Matthews, Martin) so who are the next 3 targets for Miami. Well there are 3 names, JaWuan James, Morgan Moses, and Joel Bitonio. And the name to watch here is Bitonio as the Dolphins have spent a lot of time scouting him and visiting with him. He can play both right tackle and guard which gives the Fins some versatility. Bitonio (as well as Moses and James) is projected to go late in the 1st or early 2nd round so taking him at 19 is a reach but its not crazy.
In my opinion Dennis Hickey screwed up in free agency big-time and backed himself in a corner. The Dolphins began free agency with over $30 mill in salary cap space and they immediately added Brandon Albert. Great start for them and then followed it up by adding Shelly Smith. Ok, I get it young guy with promise didn't cost a lot...not a bad move. Then that was it, no more moves on the offensive line
(yes I know they added Jason Fox but really people.)
The Dolphins needed 4 new starters on the offensive line and Mike Pouncey might be suspended as well for a few games and he stopped with only Albert and Smith? Hickey should have spent another couple million to get a proven guard or something to sure up this unit. Now we are in May and the Fins need 2 maybe 3 starters and have put all of their eggs in the draft which let's be honest is a total crap shoot.
So, as we enter the lead-up for the draft don't be fooled people and fall for the BS out there. Miami isn't going to take a WR or a linebacker in round 1. Don't be fooled by the one Dolphins beat-reporters who is saying the Fins will go for a quarterback in round 1. Don't be fooled people! The Dolphins offensive line is as big a mess today as it was at the end of last season and Free Agency didn't solve that unit's problems. The Fins are drafting offensive linemen, offensive linemen, and more offensive linemen. Everything else you hear and read this week is just noise to distract you from the obvious!