The first three rounds are in the books and the NFL Draft is in full swing. The Miami Dolphins haven't made any flashy picks but they have done an outstanding job thus far of filling needs and finding quality players. And one thing is clear with the first 3 rounds of this draft and that is it's all about supporting Ryan Tannehill. Protecting him and giving him more weapons. In Round 1 the Dolphins were essentially stuck. They needed to address the offensive line and Zach Martin was almost in reach but Jerry Jones ended that dream. Selecting Ja'Wuan James filled a need but you know Miami would have liked to move back a few spots, add a pick, and then take James. But the offensive line is so bad they couldn't risk it. They needed to take a guy who fits the zone-blocking scheme. Was it a reach at 19....yes. Could they have possibly gotten him at pick 50....maybe! But Hickey/Philbin couldn't risk it and I don't blame them.
My whole point since March was don't put yourself in this position. The Dolphins with a ton of cap space should have done more in free agency to address the offensive line so they weren't backed in a corner at pick #19. I will give Hickey/Philbin credit though they had a plan and they executed their plan and saw it through. Agree or disagree with the plan, at least they had a vision and saw it to completion when it came to the offensive line. And at the end of the day if James starts 16 games in 2014 at right tackle and only gives up 5 or 6 sacks, nobody will care that the Fins reached at 19 for him.
In Round 2 the Dolphins got themselves a football player. Jarvis Landry just makes plays and that will give him a long NFL career. Now, let's get the 40 time out of the way and address it. If you listen to NFLN and ESPN they just say he ran a 4.77/40. He did...but he did it with a tight hamstring. He could have and should have not ran that day at the combine. In reality Landry is a 4.60-4.55/40 yard guy which is a good time. Not every NFL WR needs to run a 4.4/40. OJ McDuffie ran a 4.51 and he played well for Miami. Orande Gadsden was really slow but all he did was make plays. Landry is cut from the same mold. In 106 targets last year he only dropped 1 ball. He isn't afraid to go over the middle and make the tough catch and get hit. Landry is a viscous blocker in the running game and can play special teams and cover kicks and tackle. This guys does everything you want from a WR.
The Fins said right after the pick that they have no plans to move Brian Hartline or Brandon Gibson and let me be the first to tell you they are lying! Hartline isn't going anywhere but Brandon Gibson should invest in cardboard boxes because it might be moving time. Landry is the same type of player just healthier, younger, cheaper, and maybe better. The fact Gibson is coming off major knee surgery...not good.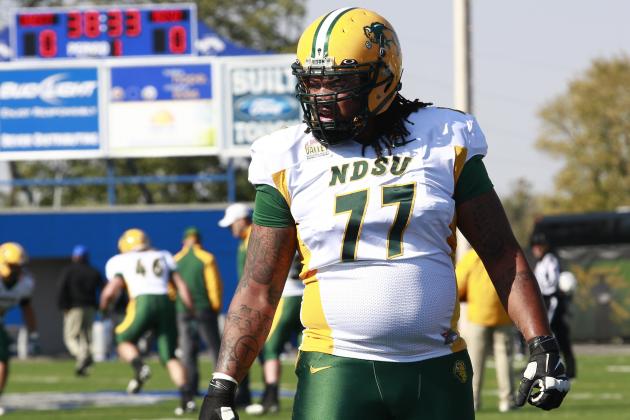 The 3rd round pick Billy Turner looks solid on paper. Now, I will admit I don't know much about Turner as I didn't see a lot of North Dakota St games but from everything you read he fits the Fins scheme of zone-blocking. Good footwork and can get to the second-level. At worse he is a back-up swing tackle to Brandon Albert and Ja'Wuan James and at best he is a starting guard this season. I am not sure Turner can win a starting guard spot but if I were on the coaching staff I would attach Turner to the hip of Brandon Albert and groom Turner to be Albert's replacement and the future left tackle of the Fins down the road. He has that potential and ability.
So now as Rounds 4-7 are a few hours away what's next? Well I think the Dolphins should add a true offensive guard if possible. That would be at the top of my wish list. Yes I know another offensive linemen but hey let's go all in this year and fix this problem now. So in coming years the Fins don't even have to think about drafting an offensive linemen. Another position I would like to see Miami address is Safety/CB. Rounds 4 and 5 are great for finding safety's who can contribute right away. I am not sure any quality middle linebackers are left worth taking. If there is one I am sure Miami will consider it. And last but not least the quarterback position. I don't think Miami drafts one and I say that for one reason. Will any QB they draft be better than Pat Devlin right now? I think the answer is no; so therefore why draft a quarterback.
Should be an interesting Day 3 of the Draft and check out DolphinsTalk.com all day for updates and news on the Fins picks.