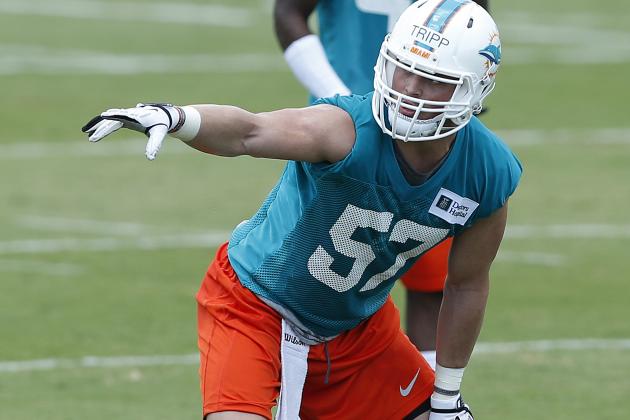 Jordan Tripp
It's the 2nd preseason game of the season and the Dolphins will face Tampa Bay. While I could care less of the score and the outcome of the game there are a few key things to keep an eye out for tonight.
1)
Will the Offense Keep Rolling--
The starters on offense last week played only 1 series and looked spectacular. If they can back it up again this week that would be a nice sign as we get closer to Week 1.
2)
Can Ja'Wuan James play better at Right Tackle--
The rookie first round pick struggled a bit last week at right tackle. He wasn't awful but he wasn't anything special either. Being a first round pick it would be nice if James came out and put out a strong performance. I would expect James to play the entire first half again this week.
3)
Will Jordan Tripp Continue to Impress --
Yes, Jordan Tripp has a chance to win a starting linebackers job. He is working some with the starters in practice now and has been impressive. If Tripp has another strong performance than Ellerbee or Wheeler will be un-seated as a starting linebacker.
4)
Will a Cornerback Rise above the Rest--
After Brent Grimes the Dolphins have a roster filled of young and unproven coreners. Will Davis, Jamar Taylor, Jailil Brown, Walt Aikens. With Jimmy Wilson now moving to Safety the first 4 games someone is going to have to grab the 3rd CB spot and take hold of it. Will Davis played well last week and took a step in that direction. Will he continue to play well or will someone else make a name for themselves this week.
5)
Will Someone Win the Right Guard battle---
Dallas Thomas, Billy Turner, Shelly Smith...will someone step up and take this job. Shelly Smith has been an utter bust the first 3 weeks of training camp. Has played poorly and we now know why St. Louis let him go. Dallas Thomas has been a pleasant surprise but he is still limited. Billy Turner looks like a beast at times but makes too many rookie mistakes. Someone will have to raise their play and maybe we see someone stand out tonight.