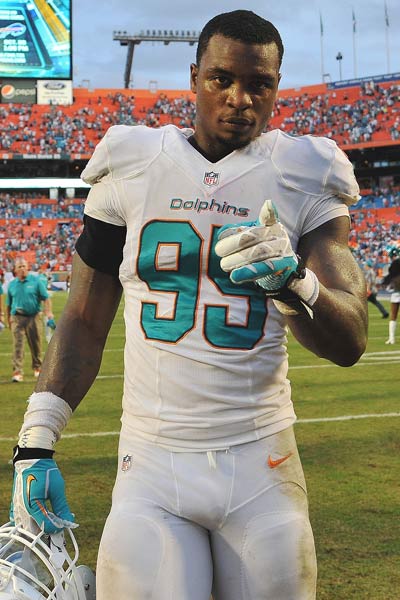 You read the headline correct. Dolphins DE Dion Jordan has failed a 2nd drug test and isn't eligible to return until after Week 6.
The NFL rule is kind of tricky but essentially once Jordan failed his 2nd test his current 4 game suspension was lifted and stopped after 2 games. He is now beginning a new 4 game suspension. All in all, he will miss 6 games in total.
The bigger story here is that Dion Jordan is a total bust of a Top 3 first round draft pick and the Dolphins have to probably move on without him. In fact if I were Dolphins principal owner Stephen Ross I would cut Dion Jordan tonight. I mean let's be honest, can anyone trust this clown at this point? How can you fail 2, yes 2 drug tests between March and September? You have to be an utter fool or a drug addict. Either way who wants that kind of person around your team and locker-room.
It's time for Stephen Ross to cut Dion Jordan and move on from this disaster. Not surprising Jeff Ireland's last big 1st round draft pick turned out to be a big waste and a total flop.
UPDATE:
Breaking down the cap numbers, because of the cap hit Miami can't trade or cut him now or in the offseason. It blows up their cap and actually puts them over the cap. There is talk once the suspension is over after Week 6 the Fins will IR him the rest of the year and not play him. Let's see if Philbin, Hickey and the coaches have the balls to do it with their jobs on the line though. But that idea has been reported by some media who were talking to their "sources" last night inside the Dolphins.
Next year, stuck with him again. Best thing for the Fins is if he flunks a 3rd test and gets a year suspension and just goes away. Otherwise you gotta put up with this clown who can't be trusted and he ties up a roster spot.