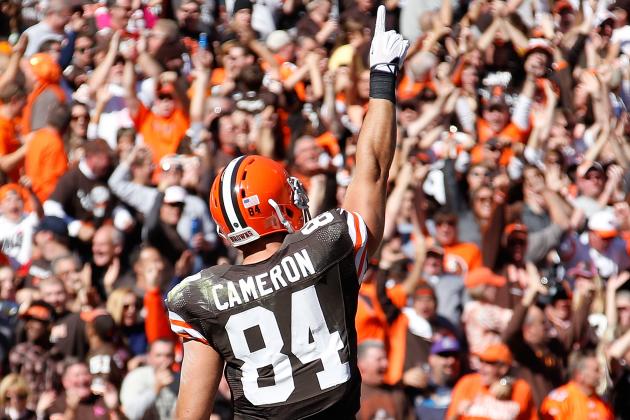 Well the last 2 hours have been a total roller coaster in Dolphins land. Tight End Jordan Cameron takes a flight to Miami last night and has an official visit with the team today. Then late this afternoon a story is released by Yahoo that Cameron has come to terms with the Browns on a 2 year $15 mill deal. Fair enough, he has been a Brown all of these years, not a shocking move at all. And at the same time an NFL Network report comes out saying Charles Clay is talking with the Dolphins on a long-term deal. So, looks like everyone will be going back to their original team and its just a formality at this point.
BUT WAIT....then out of the blue reports come out that Miami is back in. That Jordan Cameron didn't sign anything with the Browns and it was just a verbal deal. Then, the next thing you know, Jordan Cameron officially signs with the Miami Dolphins.
What? Wait? How? WHAT!?!
Well that was one heck of a roller coaster ride! So what does this mean. First off it means Charles Clay's time as a member of the Miami Dolphins is over. Sad to see him go, but let't not go overboard here people. The Charles Clay hype was way over the top in recent weeks. Clay is a "nice" player who has had 1 decent year in his life. He isn't Jimmy Graham, Tony Gonzalez, or Shannon Sharpe. He is a nice middle of the pack TE. And not worth $7 mill, $8 mill, or $9 mill a year!
BUT WAIT....
the roller coaster continues...Vic Carucci is now reporting Charles Clay is flying back to Miami to try and work out a long-term deal with the Dolphins!! Could Miami have both Jordan Cameron and Charles Clay? Sounds possible!
Now on to Jordan Cameron; I don't know the financials of the deal yet but I am not a huge fan of Cameron. This guy has scrambled eggs for brains and is one hit away from being retired. With that said, as long as the Fins gave him a team friendly deal, I can live with this. Cameron is a big Red Zone target which Miami needs. So he fills a big role in that respect. Just gotta keep your fingers crossed with Cameron and hope for the best. And the
rumor
is that Cameron's agent leaked the story of the Browns deal to the media to spark interest in teams who were on the fence about Cameron, and if that
rumor
is true, it worked!
What a wild past 3 hours or so though! And its not over yet!