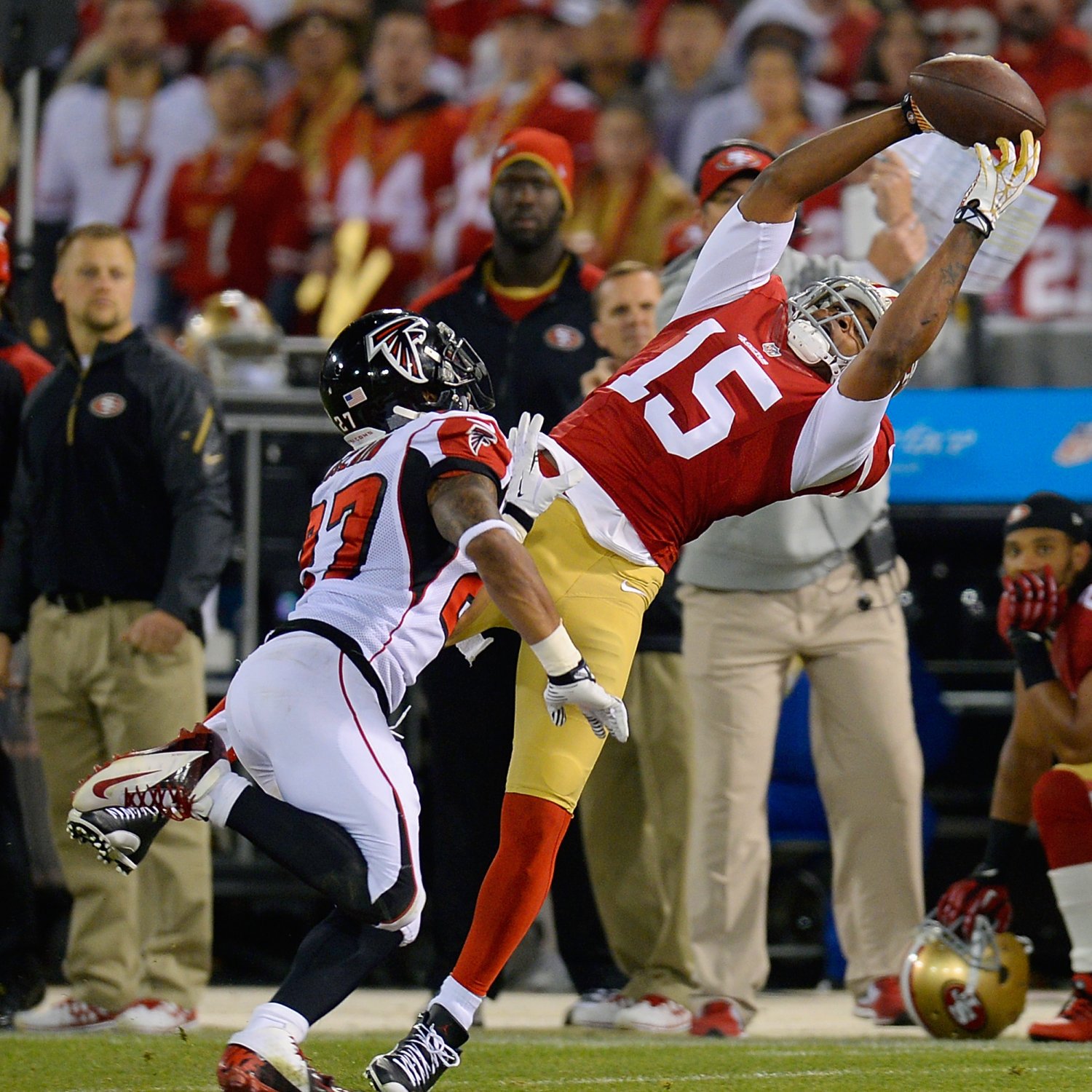 It is that time when we're constatly updating, refreshing and trying to find time to pass by. It's the dry part of the NFL offseason and when your most anticipated and viewed football news is "Tebow mania 2.0" you truly know news is slow. So instead of recapping what has been done and written down officially as far as the recent signings I want to speak shortly on one particular spot for the PHINS, that is WR and not just the position as a whole but the individual who has reportedly walked in the Davie facility and after today walked out.
I am on record of saying how big of a Michael Crabtree fan I am, I take a liking to his game. He will not fly by you, he will not overwhelm you with his metrics like a 40 yard dash, bench press or even vertical but what the guy can do is play football. People will reference to his slow start to his career, I'll mention his inability to have a coach willing to work and rejuvenate Alex smith career. You'll hear about how he can not dominate superior competition (cough, cough Richard Sherman) I'll say watch the tape again, the injury bug will be brought on the table, a torn Achilles and he lost all explosion, my reference look at the 50 yard catch he had in the playoff game he juice is there. And lastly the inconstancy from his hands, which if your looking back at film in college and his 2013 season drops are not a problem. But what Crab does so well and what will fit us is he is QB friendly, I don't mean personally I mean on the field. The guy knows how to work the scramble drill, he finds the hole, he wins 50-50 contested balls, the list goes on. But what Mike brings that we so desperately need is a winning culture a veteran leadership for a guy who's been there. I am not like the others I am confident with Kenny, Jarvis, Cameron, Rishard, and DION SIMS (watch him straight ball out) people ask and ask for a hoops star, well Dion was Mr. basketball for Michigan and has shown in his short spurts of playing time that he can indeed play.
But with Crabtree you have yet another interchangeable piece to an offense that is predicated on diversification and utilization. We will win by mismatch and with additions in the draft. Say Devante Parker or Jalen Strong, Todd Gurley or TJ Yeldon, Ali Marpet, Paul Dawson or PJ Williams, we can see some sustainable success. Remember Phin fans we want to win in December not March it's a long way before this thing is over.
PhinsUp
Chad Snider